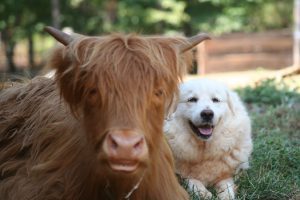 Scottish Highland Cows
The shaggy haired, long horned Highland is closely associated with the beauty, mystery, and romance of the Scottish Highlands.The early history of the Highland is not well recorded, though the breed was improved and standardized during the 1800s. Improvement was made through selection alone; the Highland never had any introductions from other breeds. Cattle were raised in the Highlands and on the islands nearby. They were sometimes called kyloe cattle, for they swam across the straits (or kyloes) on their way to market on the mainland. The breed became well known in Scotland and England, and a herdbook was established in 1884.Highland cattle were first imported to North America in the 1880s, and importations have continued throughout the 1900s. The breed has always had a small but loyal following, especially in the northern part of the United States and in Canada.
Nubian Goat Mamas
The Nubian is a large breed of dairy goat. Nubians have long, bell-shaped ears that extend an inch beyond the face, and small upturned tails. Their fur is short and glossy and can come in a variety of colors including black, tan and red.
This breed is named for the country of its origin in the upper Nile Valley (Nubia). The Nubian is the most popular breed of dairy goat in the United States. Nubians were first brought to this country in 1896. A dairy goat can produce about one gallon of milk a day, about 1/4 the amount a dairy cow can produce.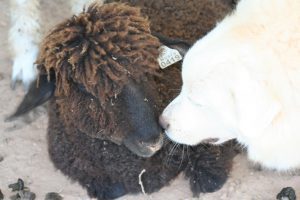 Cotswold Sheep
The Cotswold is a longwool sheep breed developed on the Cotswold Hills in the west of England. Sheep have been known in this region since the time of the Roman conquest 2,000 years ago. The American Cotswold Record Association was established in 1878. The breed was particularly valued for crossing onto fine wool ewes to produce large lambs that could be used for meat or kept for their heavy fleeces. This success in crossbreeding, coupled with the lack of market demand for pure stock (thought to be too large and slow growing) led to the near extinction of the Cotswold by the middle of the 1900s.
Cotswold fleece hangs in locks, and the fibers have a lustrous, silky sheen. A heavy forelock falling over the face is a characteristic of the breed. The fleece has a seven to thirteen inch staple length and weighs thirteen to fifteen pounds. Fiber diameter ranges from 33-42 microns.